---
Cimrman se určitě divil!
12. 3. 2016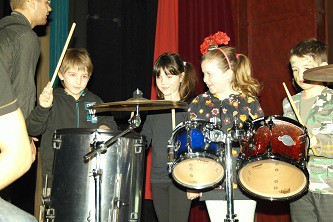 Na první nacvičování přišel ten, kdo chtěl hrát. Ti co nepřišli, nedostali roli.
Já jsem měla hrát mrtvého brouka (zasednutý Roháč). Když nám rozdali role mohli jsme začít nacvičovat.
Martina nás poslouchala na chodbě, když někoho neslyšela, bylo zle. Alena nám radila, jak to zahrát lépe. Kuba učil holky, jak mají správně ječet. Padlo na to 1,5 víkendu.
V Lípě v divadle jsme ráno měli ještě jednu zkoušku. Pak už jsme koukali na pohádku od Veverek a Kubovo laso. Umí to s ním. Další vystoupení jsme neviděli, protože jsme se museli připravit na to naše. Chtěli jsme vyhrát, ale hlavně jsme si to užívali. Slavíme letos 30. narozeniny Magnetů a ta hra byla hlavně o našich kamarádech z jiných oddílů. Veverky, S.T.A.N.i, Máci, Stopaři, Chippewa, Dakoti, Robinsoni, Roháči, my Magneti a naše Pí.uč. Všichni se v naší hře objevili. Smích z hlediště a velký potlesk nás za to odměnil. Pak jsme ještě koukali na vystoupení dalších oddílů. Taky jsme si zahráli na bubny s Hluchou partou. To bylo super.
V polední přestávce byl raut, ten se mi taky moc líbil. Byl to bufet z přinesených dobrot od tomíkovských maminek. Taky tam byl klavír, na který jsem si zahrála.
Po přestávce vystoupil Véna se svými světýlky a blikátky. Pak už byla na podiu porota a vyhlašovala výsledky. Pořád nás né a né pozvat na pódium. Šli jsme tam až úplně poslední, protože jsme VYHRÁLI! Dostali jsme hru a dort. JUPÍ! MŇAM!
Míša M.
V sobotu konal se Cimrman
na kterého byl každý tomík zván.
I většina nás se vydala
do Jiráskova divadla.
Když odehráli jsme svou hru,
zažili jsme nával fanoušků.
Všichni na tom mohli se shodnout:
to MY dostaneme ten dort.
A pak se shodla porota celá,
že vyhlašování začíná.
To MY JSME VYHRÁLI!!!!
(a dorta dostali)
"Kubo!" zařvali
a hru si s Kubovou pomocí vybrali.
TŘIKRÁT HURÁ!!!!!
Lenča M.
Komentáře
Přehled komentářů
---
---