---
Po stopách praotce Čecha a jiné povídky
13. 4. 2016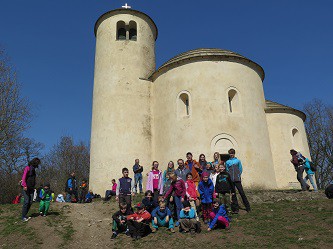 Hora Říp
V Roudnici jsem ještě nebyla. Je to krásné město.
Vyšlápli jsme na Kratochvílovu rozhlednu (no jasně, babičku jsem musela vytlačit do schodů). Odtud jsme šli pěšky na Říp. Cestou jsme potkali krásný rybníček. Na ostrůvek uprostřed něj vedla lávka. Když Verča na lávce zaskákala, lávka se zahoupala a my jsme řvali.
Co si pamatuju z Řípu?
Děsný kopec, dlouhá cesta, bolavé nohy, funění, rogala, hledání pokladu, kvíz , rotunda, focení, ruská zmrzlina, sluníčko, studený vítr, úzká a kamenitá cesta zpět, nádraží, svačina, vlak, rodiče.
Terka Franková
Po stopách praotce Čecha
jsme se v sobotu 2. dubna vydali na Říp. Nejdříve jsme jeli vlakem, který mi málem ujel, protože jsem potřebovala na záchod už na nádraží. Stihla jsem to já i Pepča, který dobíhal jen tak tak. Ve vlaku jsem seděla s Pájou, Ondrou a Lenčou, tedy jako vždycky. Když jsme vystoupili na nádraží v Roudnici, vyšli jsme směrem k Řípu. Vůbec mě tentokrát nebolely nohy. Když jsme vyšplhali na horu na horu, praotec tam nebyl. Potkali jsme pouze Píuč, která se sápala po mém řízku. To v pověstech nebylo. Berty nám připravily otázky ze Starých pověstí českých. Viděli jsme kapli a stromy. Je tam také hospoda, ve které jsme si koupili nanuky. Dolů jsme šli kratší, ale strmější cestou. Pak nás už čekala jen cesta zpátky domů. Na tomhle výletě se mi moc líbilo.
Míša Machová
Jak jsme organizovali výlet na Říp
Když nám Kuba na Tajném výletě zadal zorganizovat výlet, šla mi z toho hlava kolem. Tolik míst, kde jsme ještě nebyli!!! Ukázalo se, že to nebude tak lehké. Zprvu jsme si spolu jen dopisovali, vyhledávali místa a dopravní spojení. To bylo nejtěžší, protože někam se o víkendu v takovém počtu dostat nedá. Měli jsme pak ještě schůzku, na které jsme se definitivně rozhodli pro Říp. Volali jsme Kubovi a ten výlet schválil. Hurá! Výlet byl fajn. Hlavně počasí jsme objednali úžasné. Doufám, že se ostatním Magnetům na Řípu také líbilo.
Lenča Machová
Komentáře
Přehled komentářů
---
---